RACING STRATEGY, TACTICS, AND RULES
This series of four online classes teaches the strategy and tactics you need to turn your speed into a podium finish.
4 x 2-Hour Sessions
English
Unlimited Access
It takes more than great boat speed to win races. You need strong tactics and great boat speed. Presented by Bill Gladstone, this series includes a refined curriculum that will teach you techniques to improve your performance all the way around the course. We'll cover starts, upwind legs, downwind legs, and mark roundings and for each, we'll break down the strategy, tactics, and rules that will help get you to the podium.

ONLINE CLASS OVERVIEW
Sailboat racing is complicated. Successful racing requires strategic planning, strong tactics, a clear understanding of the rules, plus competitive boat speed. This series of online classes provides a framework to help make sense of the complex playing field on which we compete. We'll help you and your team understand where to focus your attention to make the best decisions in an uncertain setting.

STARTING STRATEGY & TACTICS

Starts can be chaos. We provide a structure to help you make order out of the frenzy so you'll get consistently good starts: at speed, on time, near the favored end, and going the right way.
Learn how to decide where on the line to start.
Understand the advantages and disadvantages of different starting approaches.
Learn how to execute your approach, how to create and defend your space, and how to get off the line with speed.
Learn about the rules at the start.
Discover techniques for better down-speed boat handling and acceleration that are an important part of making the tactics work.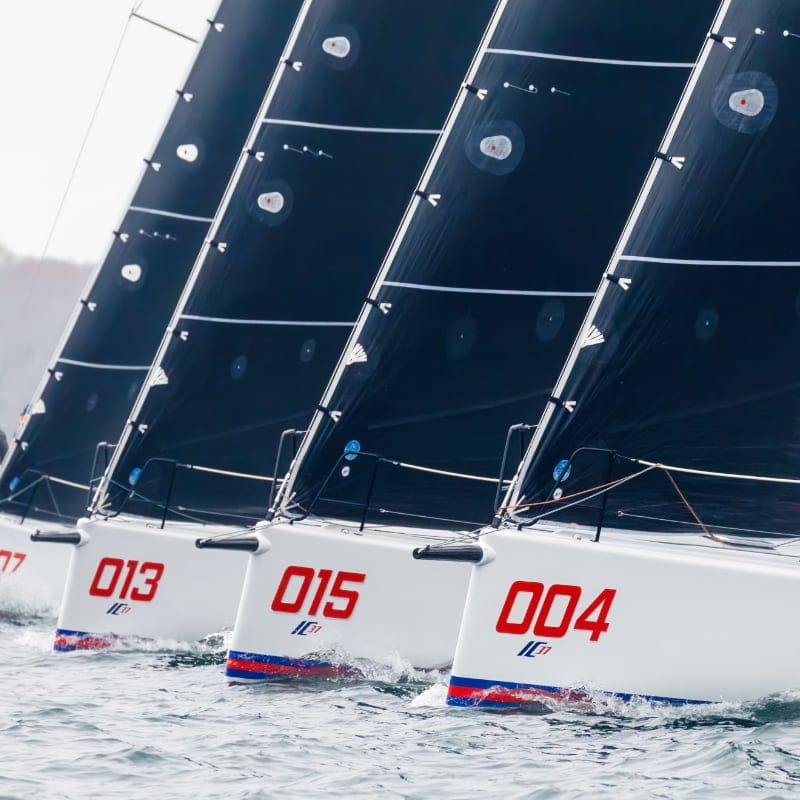 UPWIND STRATEGY & TACTICS
Learn the fundamentals of upwind strategy
Discover how to predict, and then take advantage of, changing winds and wind shifts.
Explore how to respond when you're unsure of what the wind will do next.
See the impact of wind shifts and how your positioning versus rivals can create opportunities to gain while minimizing potential losses.
Learn how to position yourself to take advantage of current.
Understand tactical positioning across the fleet, and how to attack and defend in one-on-one battles.
Learn how the rules impact tactics and understand the risk/reward ratios of tactical and strategic choices.
See how the balance of strategic and tactical considerations changes up the beat and throughout the race.
Discover techniques to help you catch up as well as how to stay ahead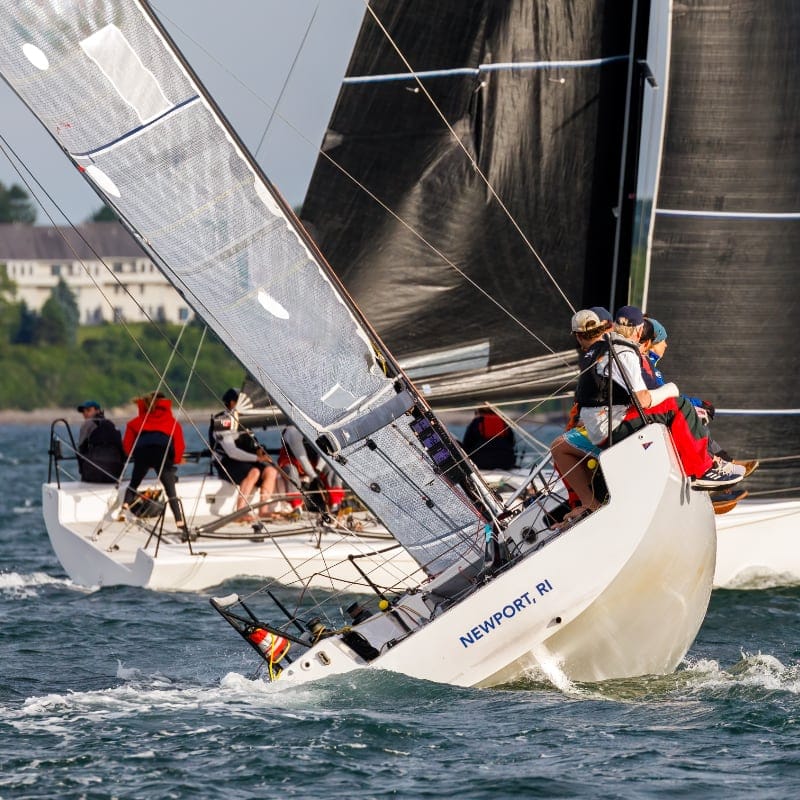 DOWNWIND STRATEGY & TACTICS
In this session, we turn downwind and explore reaching and running strategies and tactics.
Compare how downwind strategies and tactics differ from upwind strategies and tactics.
Understand the difference between inside versus outside reaches
Discuss the similarities and differences between running versus reaching
Learn proper strategy in various wind, wind shift, and current scenarios
Understand the importance of wind shifts and how it changes the size of our "playing field"
Learn techniques for finding elusive downwind wind shifts, how to predict them, and how to take advantage so you don't end up "out of bounds."
Find out how ways to respond when you're unsure of what the wind will do next.
Explore ways to position yourself to take advantage of current
Get tips for sailing in mixed fleet and multiple fleet racing.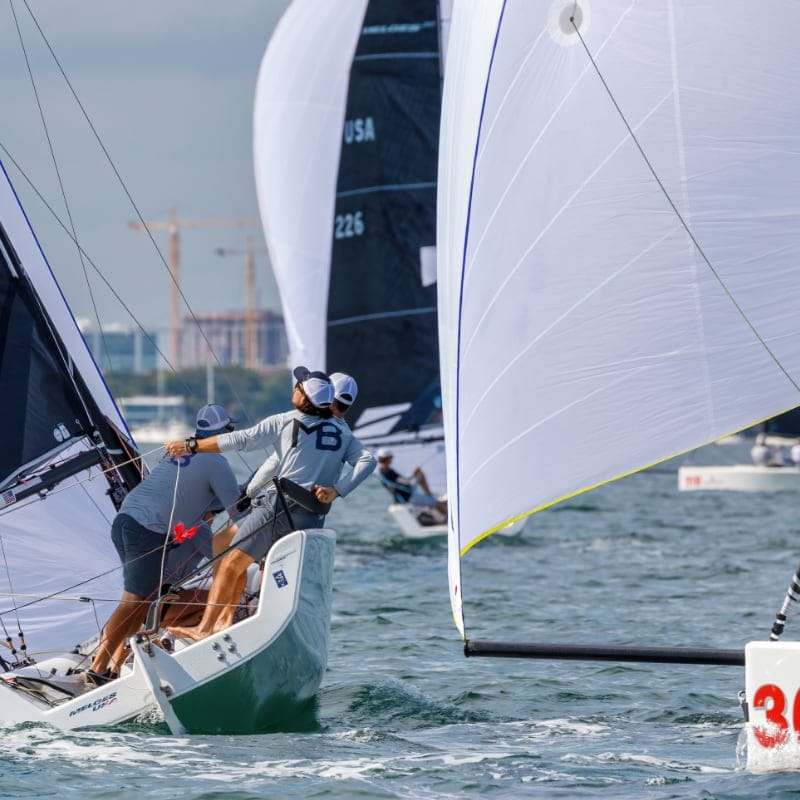 MARK ROUNDINGS & FINISHING TACTICS & RULES
In this session, we'll discuss all the options for fast windward mark approaches, leeward mark and leeward gate tactics, and essential mark-room and finishing rules.
Review of the Right of Way Rules, Limiting Rules, and Mark Room Rules
Apply the rules and explore in detail the rights, obligations, and tactics of windward and leeward mark and gate roundings.
Discuss upwind and downwind finishing tactics and rules.
Analyze a variety of common scenarios and explore the rights and obligations of each boat as the situations evolve.
Gain an understanding of the rules and the rationale behind them that will allow you to quickly assess any situation.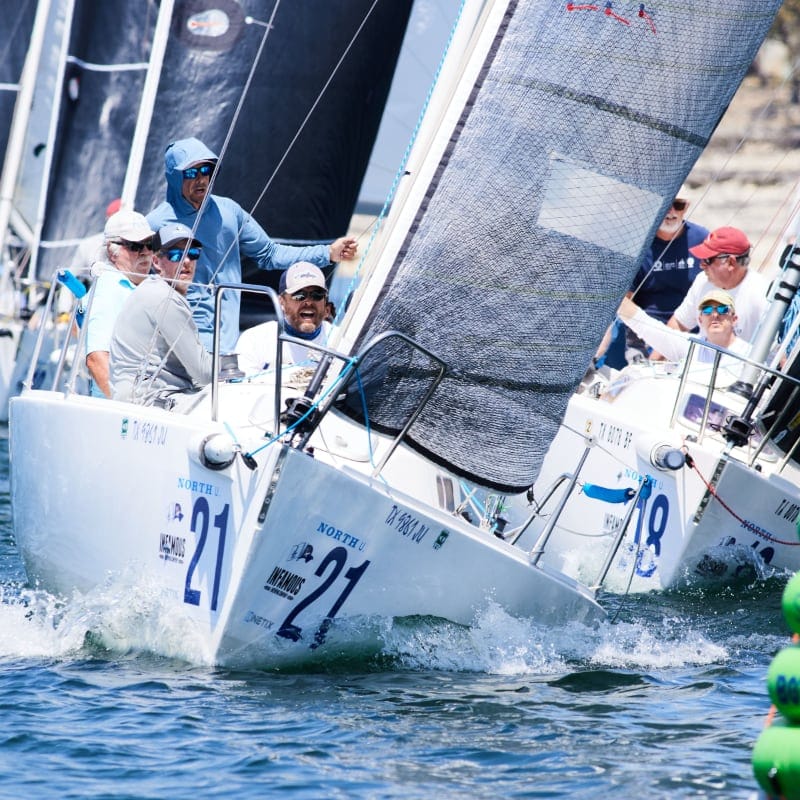 COURSE MATERIALS

The most complete book on modern racing tactics, North U Performance Racing Tactics takes you all the way around the course. The seventh edition covers tactics, rules, weather, and strategy in 180 information-packed pages. The fast-moving, easy-to-follow format is accessible to all readers. Rules are covered the way you use them – (i.e. upwind rules as part of upwind tactics). The content offers complete information for those new to racing as well as those who already have a lot of experience. Quizzes and skill-building sections show how to develop a race-winning approach.

The textbook is NOT included in the registration fee but can ordered separately from our online store - BUY NOW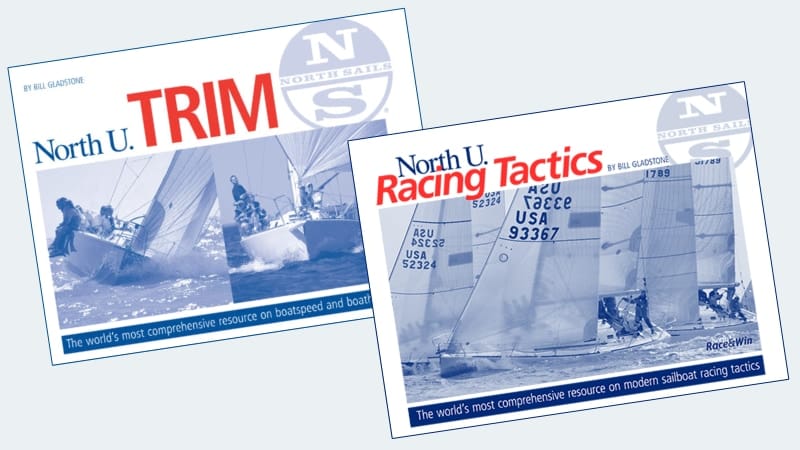 Your HOST
BILL GLADSTONE
Bill Gladstone is the Director of the North U Performance Division of American Sailing. He is the author and creator of North U Performance Racing Trim and North U Performance Racing Tactics books, seminars, online classes, and Performance Race Week clinics. Bill is also the author of the American Sailing's Advanced Cruising and Seamanship textbook and regularly presents online classes on the topic of seamanship.
Bill's racing experience covers the spectrum, including everything from dinghies to maxis, ponds to oceans, and foredeck to helm. Bill has been teaching sailing and racing for over forty years throughout North America, Europe, and Asia. His books and programs have been translated into eleven languages. Graduates of his seminars and clinics number in the tens of thousands. They are winning races and cruising with confidence the world over.