ONLINE INTRO TO SAILING
An online sailing course by American Sailing
4-6 Hours
English
Unlimited Access
5 x Sections
26 x Lessons
12 x Videos
5 x Quizzes
1 x Final Exam
Certificate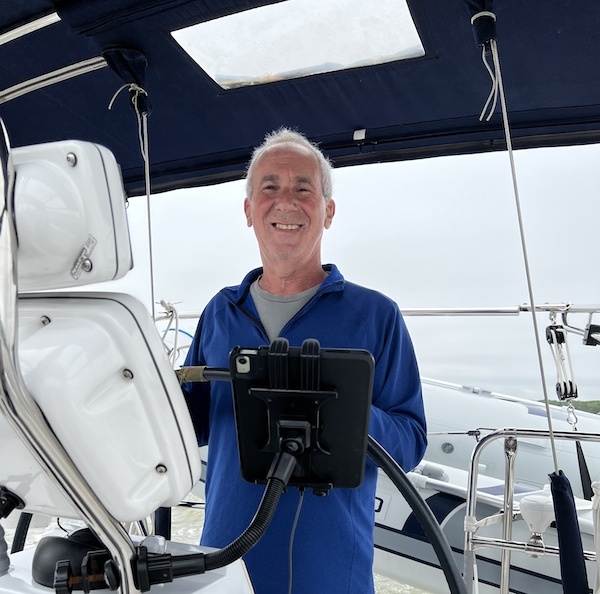 "ASA gave me the skills and confidence to move from a recreational sailor to a full-time live aboard cruiser. The courses are very well structured and the skill development is sequential and relevant. Having been a high school principal for many years I knew right away that the curriculum was excellent."
Josh Mandel
American Sailing Member for over 20 years


LEARN THE BASICS
This online sailing course introduces the fundamentals of sailing including important vocabulary, safety skills, and how sailboats work. You will understand the basics of how sailboats are able to use the power of the wind to travel even though you have never stepped foot on a boat before.
PREPARE FOR AN ON-THE-WATER COURSE
By completing the lessons in this online course you will be ready to report to an American Sailing school for on-the-water courses.
ONLINE COURSE OVERVIEW
You'll start by learning to identify the different parts of a sailboat. Did you know that sailing has literally hundreds of unique vocabulary words? Learning these terms is important before you show up to go sailing so you can be understood. "Pull the thingy next to the whatchamacallit" isn't effective communication.
Next, you will learn the magic of how sailboats are able to sail even when the wind isn't headed toward your destination. Sailboats can head upwind! Understanding the physics of how this is possible is great fun.
Later, you will learn sailing techniques while on the water. This includes operating your sails, lines, and winches to maneuver the boat toward a destination. These maneuvers are called tacks and jibes and are the secret to how a sailboat is able to sail upwind.
Finally, you'll learn important aspects of seamanship like safety skills, keeping the boat in shipshape, caring for the sails, and navigation rules.
Come aboard and join us for an informative course that will get you ready to hoist the mainsail and begin your sailing journey that lasts for years to come!
WHO IS THIS COURSE FOR?
Online Intro to Sailing is for anyone wanting to learn the basics of sailing before getting on the water. It is especially recommended for students preparing to take ASA 101 from an American Sailing school.
© American Sailing 2023. All rights reserved
Course Outline
Open Up Your World
The Anatomy of a Sailboat
Sailing — The What, The How, and The Where
The Points of Sail
Welcome Aboard
Boarding
In the Cockpit - The Boat's Controls
Preparing To Go Sailing
Rigging The Jib
Using Winches — Add Power To Your Elbow
Let's Go Sailing — Hoisting Sails And Casting Off
Mainsail First
Getting the Boat Moving
Let's Go Sailing
Safety
It's All About Trim
Time For The Jib
The Power Of Two
It's All About The Wind
Tacking — Getting From Zig To Zag And Back
Jibing — Changing Tacks The Other Way
Seamanship
Taking Responsibility Afloat
Tying It All Together
Keeping The Boat Shipshape
When the Sail is Over
Care and Handling of Sails
Safe Sailing and the Law
Some Basic Rules To Live By
Required Safety Equipment
Aids To Navigation
Why Learn to Sail with American Sailing?
For over 40 years, American Sailing has been the leader in sailing education. The American Sailing Association provides standards for progressive sailing certification programs, including: Keelboat Sailing, Small Boat Sailing, and Multihull Sailing. In addition, ASA provides standards for a number of endorsements, which are intended to supplement the main certification series. These include Docking, Weather, Celestial, and Radar.
We give you the knowledge and experience to be confident and safe on all your sailing adventures, whether you charter a boat from a local harbor, go on an exotic sailing vacation, or even buy your own boat.
Frequently Asked Questions
When does the course start and finish?
The course is available to start immediately. It's a completely self-paced online course, so you're free to complete the course on your schedule.
How long do I have access to the course?
Once you have purchased the course you will have unlimited access - you will be able to take the course and/or review any of the videos/content whenever you like.
Is there an exam?
You will take an exam at the conclusion of the course and there are mini quizzes throughout the curriculum.
Will I obtain a seal for my ASA logbook?
You will not obtain a seal for your logbook. You will, however, be awarded a Certificate of Completion that can be presented to your local sailing school as proof that you successfully completed American Sailing's Online Intro to Sailing course.